I went yesterday to see the osteopath, Who agreed with me; two broken ribs, but in addition, another rib displaced posteriorly. She found all sorts of spasm both in my back and my chest wall. God bless her, before she was done both ribs that were out of place were back where they belonged & she was able to improve how I was feeling. Pain level dropped from a 7 out of 10 down to a 4 out of 10. Breathing no longer made me miserable. Thank God I made the trip down to see her.
After leaving her, I went on to the memorial for my friend's husband. Eddie was gone long before he should have been, less than two months after his diagnosis of esophageal cancer. He was all of 54. For someone so recently widowed, Matthew seemed to be doing surprisingly well, at least on the surface. Time will tell. There was an interesting mix of speech and accents. Both Matt & Eddie signed; Matt is a professional ASL interpreter. There was a large contingent of people who sign at the memorial, both interpreters and deaf people, some verbal, some not. There were a fair number of verbal deaf at the gathering who had that distinctive speech so many verbal deaf have. This was contrasted by a large number of Northern Minnesotans there. Eddie was born & raised in Duluth and much of his family flew out for the memorial, don't ya know. Eddie's twang had diminished in the years since he'd lived there. You could hear traces of it, if you listened for it. His family however, could have easily been casted as extras in
Fargo
.
After leaving the memorial at six I headed over to the Walmart pharmacy in Windsor to pick up some pain medication also courtesy of the osteopath and there after hit Mombo's to pick up a couple of pizzas to bring home. Their gluten-free pizza's about the best I've ever had & who can argue with clams, garlic, pesto and onions on a pizza? For my husband there was a chicken pesto pizza (extra large) which will be enjoying for the next 3-4 days.
Today I decided to attack the silverware drawer. I am trying to unpack things and put them away and I finally found the silverware day before yesterday, but as yet hadn't unpacked it, until preparing the drawer for it. Hence: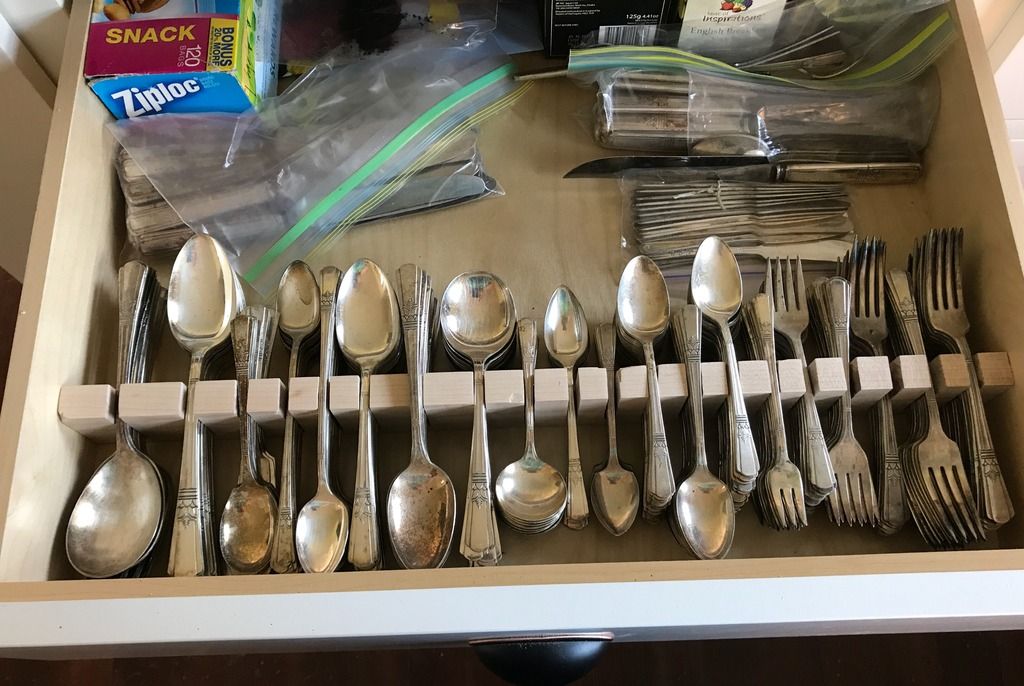 Years ago, when I went to purchase flatware the price stainless was exorbitant and I found I could get silver plate on eBay for next to nothing. Overtime I acquired the Court pattern, something quite Art Deco, Circa 1939. As an older pattern there is a huge amount of esoteric flatware including three different styles of forks, six different types of spoons, and a variety of serving pieces. It took me a couple of hours with the tablesaw on this piece of scrap maple left over from hanging the cabinets to make this flatware holder for this drawer. I have already acquired a separate basket for the knives & the carving set.
Now that I am feeling somewhat better it's time to hit the gym again. I did a half hour, two & a half mile run, and then met LJ at the local eatery on the water for dinner (a couple of Cobb salads)